Specification
An excellent house is made of excellent materials.
The excellent quality of used materials makes this real estate a nice, comfortable and safe place. For instance stairs are covered by excellent travertine, a part from day stairs that are customized with a steel structure and solid wood steps.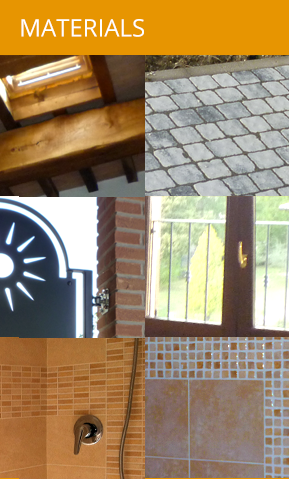 Inner Tiles
Floors and covers are made of tiles with excellent quality that contribute to make the houses more beautiful and more comfortable.
Outer Tiles
On the outer parts, the floor of the pedestrian areas of the estate are made by self-blocking hardwood floor.
Doors and windows
Window frames are made of solid wood. All windows are equipped with a double glass that offers good thermo-acoustic insulation. The entrance door is reinforced and the doors of the garage are sectional doors compatible for a possible motor control.
High quality of finishes
Outer walls are completed at the base with nice visible bricks and at the top with colored plaster. Outer areas of the properties are fully lightened with a private lightning. 
We guarantee that each property is a quality house that you will be able to enjoy for a lifetime.
All these elements, combined together, make the real estate Italy a nice and good looking place to live the "Dolce Vita" lifestyle in Umbria. Come and visit a property for sale of your choice!